Just the facts:

STATE: Idaho
NICKNAME: Gem State
FOOD EATEN: Potatoes. HAHA, jk. I went to Twin Falls Sandwich Company in (surprise) Twin Falls and Cristina's Restaurant in Sun Valley
PLACES VISITED: Shoshone Falls (via Twin Falls), Sun Valley (via Ketchum and Hailey), Craters of the Moon
GOOGLE MAPS ILLUSTRATION: Potato farmer
PHOTOS: HERE
---
For those who don't know, I'm on the road before I head off to grad school. While I could make things a heck of a lot easier for myself and stay in one location, I did have a bucket list item I wanted to complete, come hell or high water. Or, rather I had 13 bucket list items that I wanted to complete, and those were all the states I hadn't yet visited:
Idaho
North Dakota
South Dakota
Nebraska
Kansas
Oklahoma
Minnesota
Iowa
Arkansas
Mississippi
Alabama
Georgia
Vermont
This is probably a terrible time to mention that I haven't driven regularly since I was in high school, right?
While most of these states can geographically be grouped together, it did mean that I was going to have to zigzag my way through the US. To go out of my way just to hit up Idaho OR Vermont makes zero sense to the average person, but hey, I'm committed.
In fact, the first state I checked off was Idaho. There are two things I know about Idaho, and those are (1) potatoes and (2) Napoleon Dynamite.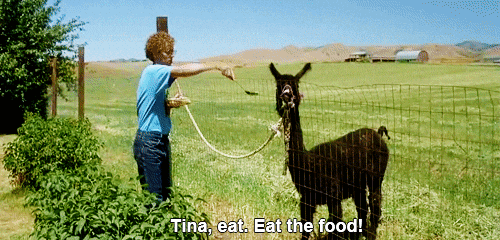 Speaking of which, it's been 13 years since Napoleon Dynamite was a thing?!
Unfortunately, I didn't quite make it to Preston, and after hours of driving through the Tahoe/Reno area and bits of Nevada along I-80, I was quite happy to see some form of civilization in the form of Twin Falls, ID: home to Chobani yogurt and CLIF bars!
Mostly, I was just plain hungry, hence this chicken pesto panini from the Twin Falls Sandwich Company, with lots of fries because being in Idaho warrants a metric crapton of potatoes.
Appropriately fueled up for the rest of the leg, I eventually made it to our first real destination: Shoshone Falls! Dubbed the "Niagara of the West" but careful enough to disassociate themselves with the tourist kitsch that defines the real Niagara we know and love (to hate), Shoshone Falls boasts the type of waterfalls that TLC told you not to chase:
That night, we drove to Sun Valley, aka the ski area where Ernest Hemingway used to spend his winter vacays. By May though, Ketchum and its surrounding environs were quiet with little residual mounds of snow, which is to be expected when the ski season is already over, but that didn't stop us from walking around the main town, Ketchum*, the next day and grabbing coffee and a meal at Cristina's:
DAT RIGATONI was excellent (10/10 would eat again), and a good walking distance away from Ketchum Cemetery, where you can find the graves of Hemingway & co, should you know where to look:
We then headed to the Hemingway Memorial at Trail Run, which is nestled between a park and a golf course.
That afternoon saw us driving out of Sun Valley and onto our next Idahoan destination: Craters of the Moon! A national monument and preserve in central Idaho, Craters of the Moon is an endless expanse of dark volcanic ruins. Equal parts weird and stunning, Craters is made of dark lava flows, cinder cones, and sagebrush that look both futuristic and jurassic.
As we walked along the trails, the landscape looked largely like this:
with the occasional trees poking out:
with a few ice caves:
Like, damn, Idaho. Who woulda thunk that you'd be able to come across this post-apocalyptic aesthetic in this neck of the woods?
*Yes, of course I thought of Pokemon. What, you think I was just going to roadtrip and not play Pokemon Go?